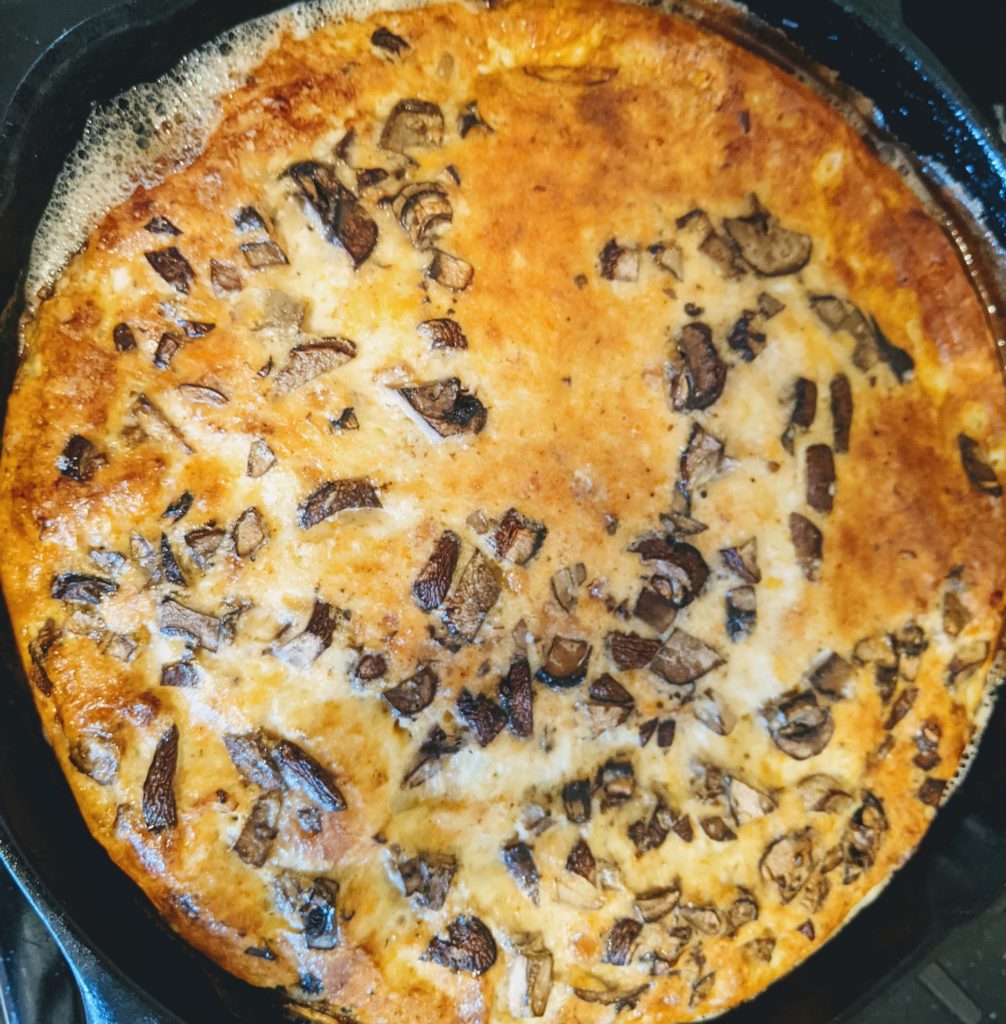 I like eggs. No, I love eggs! People talk about cheese as the food that keeps them from "going vegan", but for me it's eggs. (And maybe ice cream/gelato, but that's another discussion altogether.)
As much as I enjoy eggs, though, I've never eaten a lot of quiche. I don't find the idea of an egg pie appetizing. My partner, Fálki, though — I discovered during one recent discussion — has enjoyed quiche on many occasions.
During that discussion, she mentioned a hashbrown-crusted quiche, and my curiosity was piqued. Hmmm… Now that sounds interesting!
I searched the internet to see what a basic quiche recipe with a potato crust looked like. I found one at Tasty and used it as a model.
(I like Tasty for recipes, btw, because they get directly to the recipes, instead of the way we bloggers like to talk a lot first. Fwiw, I try to keep my chatter to a minimum, because I do feel your pain.)
My biggest issue with the Tasty recipe is that it uses fresh potatoes for the crust. I don't like the flavor of raw potatoes pan-fried/cooked plain. I make potato pancakes on the stovetop every so often that way, and it's not my favorite. (So why do I make it, then? Because I've found my palate changes over time, and I want to make sure I still don't like it.)
When Fálki mentioned "hashbrowns" before, I thought of hashbrown patties. You know, like the kind you get at fast-food restaurants. So that's what I went with, and the quiche and crust came out great!
For the record, all my ingredients are Trader Joe's house brands. You can get this stuff anywhere, though.
I recommend adding plain, whole-milk yogurt to the ingredient list, as I found the quiche delicious with a large dollop of yogurt on the side.
Quiche Ingredients
8 eggs
1 cup plain oatmilk (I'd have used cashew milk, but didn't have it on hand)
2-3 strips of bacon, chopped
5 hash brown patties
3/4 cup Mexican Style blend cheese
1/4 cup Quatro Formaggi cheese
3/4 cup chopped mushrooms
1 tablespoon garlic powder
1/2 tablespoon onion powder
1 teaspoon chili powder
Pico de Gallo Ingredients
6 tomatoes
2 tablespoons red onion
1/2 avocado
2 cloves garlic, diced
salt & pepper
squirt of sriracha
Instructions
Preheat the oven to 400°F.
While the oven is heating, fry the bacon in a 10″ cast iron skillet.
Remove the bacon from the skillet and set aside for later. Leave the bacon fat in the skillet, with the burner on medium-low.
Place 4 hashbrown patties in a star pattern (or however you like) in the skillet. Cut a 5th hashbrown patty to fit into the gaps. All the gaps don't need to be completely filled, but try to get it somewhat tight.
Cook hashbrowns in the 400 oven for 10-15 minutes.
While the crust is in the oven, whisk together the eggs and milk until just barely foamy.
Add the cheeses, powders, mushrooms, and bacon, and stir to incorporate into the egg-milk mixture. NOTE: You can add pepper, too, but don't add salt to the mixture, as salt during cooking makes eggs less tender. That's a tip from Chef Robert Irvine during his segment about how to make great scrambled eggs.
Once the hashbrown crust has cooked 10-15 minutes, lower the oven heat to 350°F and remove the skillet.
Pour the egg mixture into the skillet over the hashbrowns.
Put the skillet back into the overn and bake the quiche at 350°F for 40 minutes or until the top is nicely browned, as it is in the photo above.
While the quiche is baking, make the pico de gallo by chopping the tomatoes and avocado, dicing the onions and garlic, and mixing them together in a small bowl with some salt, pepper, and the squirt of sriracha. Let it sit, stirring to recombine every so often. NOTE: I used sriracha, because I had no hot peppers, but a dice of jalapeño would be nice instead.